Top Golf Courses in the World
Golf has dozens of major tournaments and events every year that are broadcast across cable television. They're carried by networks like ESPN, CBS and NBC. There's even a Golf channel that deals only with showing the many different golf tournaments on the tour. So if you're an avid golf fan, there are plenty of ways to watch your favorites face off from the comfort of your home. Being a widespread sport, that also means there are many different ways by which to legally bet on golf. You can find a golf section at every reputable sportsbook in operation. Golf brings in a lot of betting revenues, and there are many different options offered to sports betters looking to place wagers on this sport. However, things might get a little confusing if you're not up to par, so to speak, on how to actually bet on golf.
Whether you're an avid golfer or just someone who enjoys the finer things in life, you probably have a special place in your heart for a top-notch golf course. There's truly nothing like those luscious, vibrant greens popping in the sun. The level grass that's so pure and pristine, without a weed in sight. A golf course is a feat of landscaping majesty, and some golf courses just leave all the rest paling in comparison. Of all the many thousands of courses in the world, some are truly so far above the rest that they have earned placement on our top-five list. Now, if you disagree with our list, we understand. For starters, all this stuff is strictly subjective. There is no objective measure by which to quantify the beauty of a golf course. Secondly, we cut our teeth on sports betting; judging the beauty of green golf courses is a little outside our wheelhouse.
Nevertheless, we want to give you avid golf fans a little something to discuss with our top-five golf courses. Maybe you agree with our placement, or maybe you think we're in the weeds and need to take a mulligan. However you choose to judge a course, it is something that will always be subjective. That being said, here are our picks for the top-five courses.
The Top-Five Golf Courses
1: Augusta National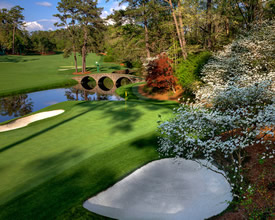 Miles of brilliant, lush green that truly pops of the screen in HD and takes your breath away in real life, the Augusta National Golf Club has been one of the world's premier golf courses for nearly a century. Since it opened up in 1933, thanks to Bobby Jones' vision, Augusta has been home of the Masters and has stood the test of time as one of the most exclusive private resorts on earth. This is a par-72 golf course that has a course rating of 78.1. It has a slope rating of 137, and most golfers dream of teeing off at Augusta at least once in their lifetime. As a private organization, Augusta kept its men-only policy since its inception, just letting off the gas in 2012 when they accepted their first two female members: Darla Moore and Condoleezza Rice. You can learn more about this course here: Augusta Country Club
2: Pine Valley G.C.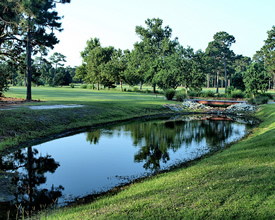 New Jersey is known for oil refineries, a very densely populated citizenry, and the reputation of being New York's little cousin. However, when it comes to golf courses, New Jersey has one of the world's best with the Pine Valley Golf Club. Opened in 1913, this private club has long been known as one of the world's best, even making it to number-one in Golf Magazine's top 100 courses of the world in their 2012 edition. Although Pine Valley doesn't boast any huge annual PGA tours, it's still a top-rated course with professionals. This par-70 course is exceedingly beautiful but also quite difficult. It's not a course that's very friendly to amateurs, and one can only be invited into the club by a member of the club's board of directors, so it's one of the most closely guarded clubs in the world as well. You can learn more about this course here: Pine Valley Country Club
3: Oakmont C.C.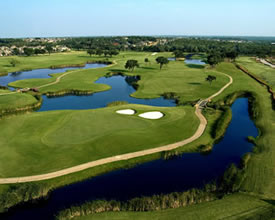 The Oakmont Country Club has been around since 1903, which makes its golf course one of the oldest in the nation. It has also long been one of the most popular courses in the nation. A par-71 course with a rating of 77.5, Oakmont doesn't seem that great on paper; in fact, it kind of blends in with other golf courses around the nation. However, upon seeing this course, it becomes instantly apparent why this is one of the world's best. Oakmont has hosted the US Open numerous times, as well as other PGA events, and its beauty is something that cannot be accurately expressed with words alone. The clubhouse is a sprawling old estate, and the bunkers on the course fit in so seamlessly that it looks like it grew naturally that way. It's a medium-level course to play on, and the club's membership is ultra exclusive and they even still have a men-only policy in member acceptance. You can learn more about this course here: You can learn more about this course here: Oakmont Country Club
4: Cypress Point Club
Pebble Beach, California is an area that's going to make this list more than once. That's because this is where some of the best golf courses on the planet are located. In fact, three or four could have easily made this list, but Cypress Point was a no-brainer. It cannot be omitted from a list of the best golf courses. It's really that great. Established in 1928, Cypress Point looks like something out of a fever dream, but in a good way. If you're an avid golfer, and your worst fears include landing in the water well removed from the green, then Cypress Point would seem like the world's most daunting mission. Inundated with water traps, lakes, ponds, canals, etc, Cypress Point is a veritable minefield for golfers, and only the best can achieve success on this par-72 course. Players play alongside the Pacific ocean on holes 15-17, which are annually rated as the best holes in the world. You can learn more about this course here: You can learn more about this course here: Cypress Point Country Club
5: Pebble Beach G. Links
Other than Augusta, Pebble Beach is undoubtedly the most recognizable name of a golf course in history. It is also regarded as one of the most beautiful courses in existence, as well as one of the most difficult on which to play a round of golf. Every year there's a major tournament happening at Pebble Beach is seems like, and while fans love the atmosphere and beauty, many players dread the tough course. On paper, it's just a basic par-72 course. In reality, however, Pebble Beach is a sand trap waiting to happen. The Pebble Beach Golf Links and Cypress Point are two separate courses, although both located in Pebble Beach. For which course is actually better, well, you can flip a coin to help you decide there. There's really no objective way to call it. Since 1919, the Links at Pebble Beach has been one of the world's most impressive golf courses. You can learn more about this course here: Pebble Beach Golf Links